Stehling's Taxidermy was founded in 1976. From the beginning, the Stehling's have been a dominate force in the taxidermy Industry. The continued innovation and legendary volumes of taxidermy art created by the Stehling family has made them a household name in the Taxidermy Industry.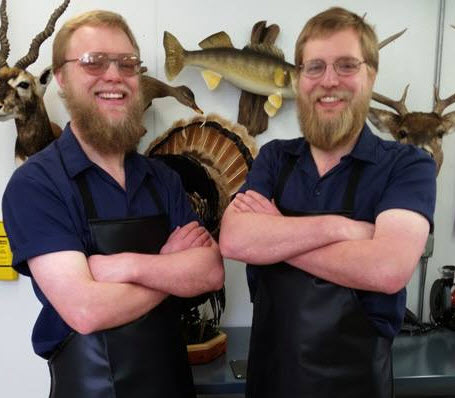 Aaron & Austin Stehling
Stehling's King Turkey © brand services and products encompass the turkey division at Stehling's Taxidermy LLC . Our commitment to quality and customer service has made our team a leader in the turkey taxidermy field. Our staff has mounted thousands of turkeys for clients all over the World . Under the direction of turkey taxidermist Aaron Stehling, our dedicated taxidermists are ready to mount your trophy and educate you in the art of turkey taxidermy ! 
Stehling's Taxidermy & The AJ Stehling Company Command & Control center. This is where we do our video editing, web development , and monitor our web sites in real time.
Our state of the art Taxidermy Studio.

Our work can be found on display at :